Will you CBD my Valentine?
How to Share the Organic CBD Love this Valentine's Day
February 11th, 2020
By Marilia Angeline
Wondering what to get your partner or crush for Valentine's Day? Want to gift something festive to family, friends, or co-workers? Or maybe you're craving a self-care treat?
Here are our top organic CBD gift picks, all made by OrganiCBD. These fun products will make a more unique gift than just the traditional flowers and chocolate… and will last longer!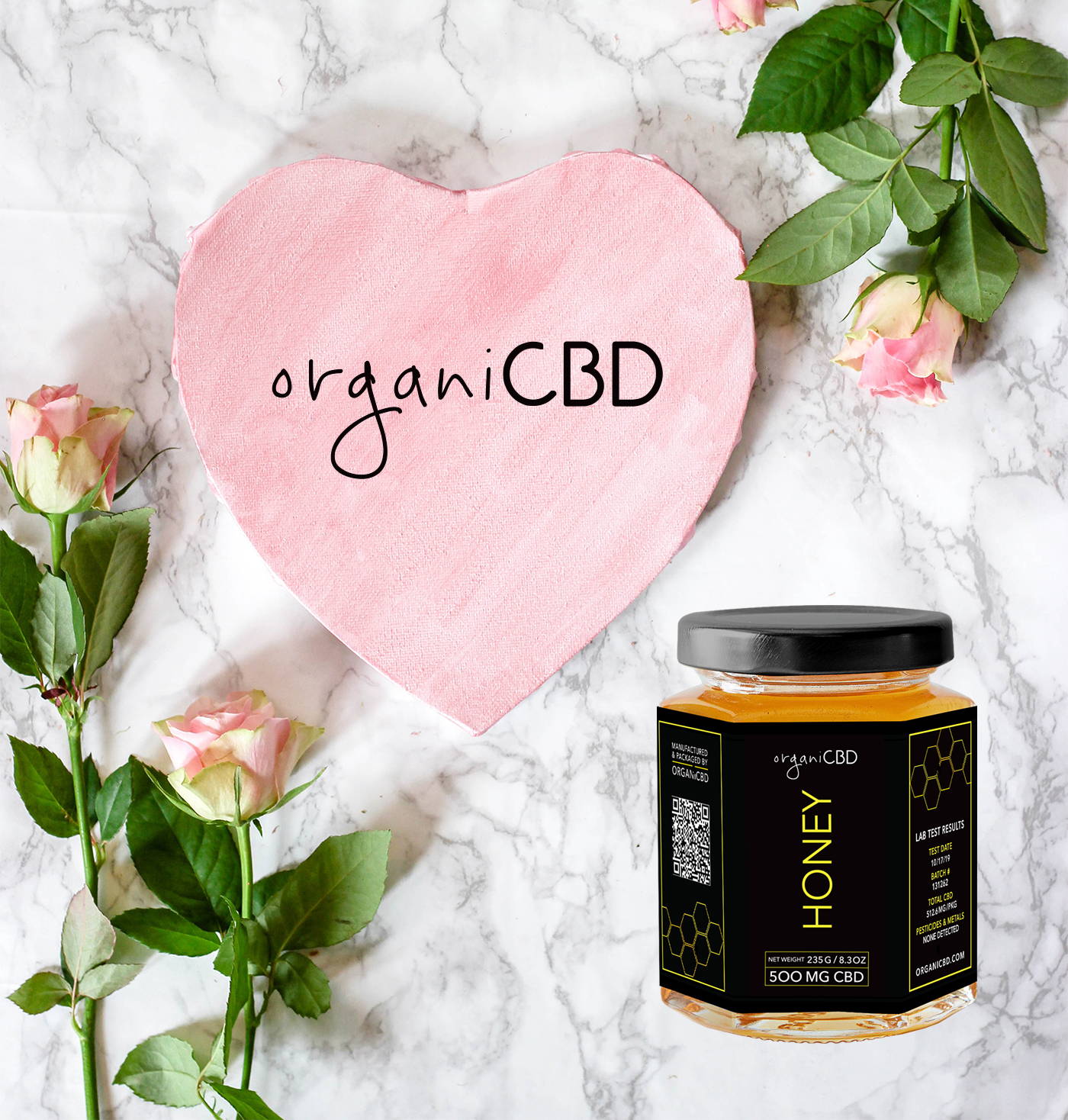 Make a romantic dessert and get the taste of locally grown raw organic California honey combined with the benefits of organic CBD oil.  Instead of chocolate covered strawberries, try CBD Honey covered strawberries—or layer honey on top of chocolate for maximum indulgence. Other sweet options include baking brownies and swirling honey on top or making an ice cream sundae drizzled with honey. If you don't want to bake, just give your Valentine their own glass jar of OrganiCBD Honey, or a bouquet of OrganiCBD Honey Sticks. The uses are endless
Lavender they will love you for.
Lavender is our most calming and relaxing CBD Oil option. The romantic aroma of lavender makes it perfect to use on Valentine's Day to unwind for a special night together. Not only will a dropper of this oil give your loved ones more peaceful sleep, it can help with their aches and pains because it's anti-inflammatory. Plus, they can trust in the all-organic quality of just 3 simple ingredients: Organic MCT oil, CBD from Organic Hemp, and Organic Lavender Oil.  There are 3 other delicious flavors you can gift them (Lemon, Peppermint, & Unflavored), or treat them to the whole OrganiCBD CBD Oil collection.
Soft clothing, for an even softer heart.
Since Valentine's Day is February 14th, it will be cold out. Keep your loved ones warm and cozy all winter long in a Unisex Organic Long Sleeve T-Shirt, which comes in sizes Small-2XL. It's black so it goes with everything and is a great way to show their love for an organic CBD lifestyle. The OrganiCBD shirt is made of 100% combed organic cotton (grown without GMOs, herbicides, and pesticides), the highest quality stitching, and is already pre-shrunk. Organic cotton never goes out of style—check out the full clothing line here.
Warning: Vaping may cause dreams.
Your Valentine will love the Dream CBD Vape Pen's high-end glass and ceramic technology—no plastic and cotton here. This vape pen is optimized to give the gift of a good night's sleep, thanks to 100% organic USA hemp and natural plant-derived terpenes. Rest assured knowing they'll inhale a full spectrum of cannabinoids with absolutely no additives, MCT oil, isolate, or fillers added. Leave a Dream Vape Pen on your loved one's pillow or choose from OrganiCBD's full CBD Vape Collection.
Make this Valentine's Day--or any day you want celebrate love--one to remember with organic CBD gifts from OrganiCBD. And why not also honor your self-love with a special CBD treat for yourself as well? Order your gifts now and get free shipping on all orders over $50 or look for select OrganiCBD products at your local CBD stores and dispensaries.
- Marila Angeline -